What's The Gerry Lane Club?
Included with every Gerry Lane purchase of a New or Used vehicle comes our custom Gerry Lane plate. You can find these located on the front of the vehicle and you'll also find our Gerry Lane decal located on the back.
Gerry Lane Free Lifetime Oil Changes
As a valued Gerry Lane customer, we are pleased to offer FREE OIL CHANGES FOR LIFE for as long as you cruise around town in your new or used vehicle! You only need our custom Gerry Lane plate and decal, it's that easy! So join the club, won't you?
What's So SPECIAL About Our License Plate?
As long as you own your vehicle and maintain both your front plate and rear decal, you will receive our FREE OIL CHANGES for the life of your vehicle!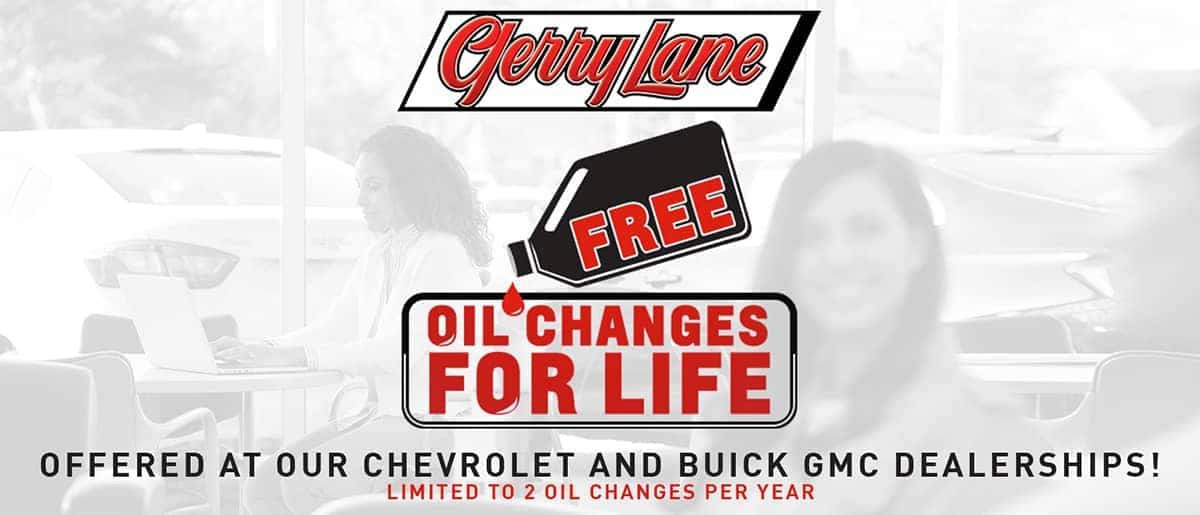 What's Included?
Our Club Members receive:
Free Conventional or Synthetic Oil
Free Oil Filter
Free Engine Lube
Free Multi-Point Inspection
Free Air or Nitrogen Tire Fill*
Complimentary Wi-Fi and Amenities
Cost savings of over $385 a year on average!

*On models 1999 and newer, with the GM Oil Life System "Change Engine Oil" light illuminated in the Message Center, and at which time we will change the oil and reset the oil change computer settings. For vehicles 1999 and new that do not have the GM Oil Life System, we will change the oil in accordance with the Highway Driving Guidelines in your owner's manual OR every 7500 miles. This also applies to Non-GM model vehicles. Nitrogen fill free for a year from date of purchase. See Dealer for Complete Details.
*Offer not valid on vehicles purchased at Gerry Lane Cadillac.