Born during the Great Depression in the Dust Bowl of Oklahoma, Gerald Ray Lane, son of a sharecropper, was not born into abundance. Ob­servant by nature and raised by his Cherokee mother who always made a point to teach him, he learned quickly that his life would be what he made it.
At the age of 22, he left the Dust Bowl to make a living in a machine shop in San Diego. He quickly grew tired of the idea of making the same wage as the guy next to him no matter how hard he worked. By divine providence, Gerry was led to his first job at a dealership. Through desperation, determination, and his honest way of communicating, he sold 5 cars in his first week. He quickly rose to the top of the sales team. Two years later, San Diego fell on hard times and Gerry moved to Los Angeles to sell with the big boys. There, he quickly became one of the top salesmen, living the big life of LA, and selling cars to celebrities. One day, he was told they were closing the doors. The organization who managed dealerships nationwide, desperate to keep him in the organization, recommended him to job openings in Houston, New Orleans, Kansas City, Baton Rouge, and Baltimore.
Dealers in Houston and New Orleans failed to impress, so he kept driving east. He planned to drive past "little" Baton Rouge – he didn't want to return to "the hick country like back home." As he drove through, the buildings, the traffic, and the people caught his attention. As Gerry drove over the Mississippi River, he saw the developing campus of Southern University, bustling industrial plants, and barges crowding the river. He quickly took a U-turn and headed back to Baton Rouge.
Next stop, Capital City Ford, where he was immediately hired on as sales manager and tasked with turning the flailing dealership around. He proposed an aggressive pay plan. He told them not to pay him anything until he passed the monthly average-108 units-but to pay him $10 on every Ford sold after that. They agreed, and Gerry began organizing his team. In September 1957 they sold 303 Fords! A few weeks later his boss told him he was making too much money. They cut his pay plan twice in six months while he continued to break records. That December, Herb Polk called Gerry and offered him a job working at his new Chevy dealership, which he gladly accepted. He began building a life in the south, marrying his southern belle, Faye, and bringing his children, Saundra and Eric, into the world. Polk Chevrolet broke sales records and he and Herb Polk grew close. They be­gan watching the Florida Blvd corridor. In 1964, while Herb was on vacation, their opportunity came. Gerry leaped to make a deal for the property at 6505 Florida Boulevard. There, they built the new Polk Chevrolet.
As sales increased and Gerry sold like a madman, the inevitable came to pass – he was making too much money again. Gerry proposed a part­nership, but Herb refused. He had to find his own dealership. In 1966, he got his shot and threw all his savings into a broke down dealership in Bay St. Louis, MS. He fixed it up, recruited friends from around the country, and got to work. Gerry Lane Chevrolet was in business. In one year, business increased by 487%. He turned, a failing dealership into a diamond in General Motor's crown. He spent the next couple of decades buying, flipping, and selling over a dozen dealerships.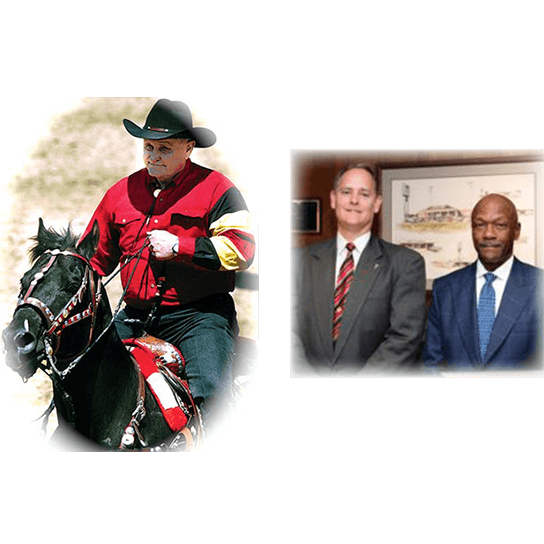 In 1987, Gerry bought Herb Polk's dealership on Florida Blvd. That would become the Gerry Lane Chevrolet we know today. "Family, fairness, and legacy." This organization, Gerry's legacy, is the living embodiment of his spirit and his life. He lives on through the tens of thousands of lives he touched. We all owe a great deal to Gerry Lane. On this anniversary we say, "Thank God for good 'ole Gerry Lane."
Though Gerry died in 2013, sixty years of his hard-earned philosophy is still working. He's still helping families one car at a time. Gerry Lane dealerships consistently outsell the majority of automotive dealerships in the Gulf South year after year because of great customer service. Gerry Lane is the only dealership that guarantees free oil changes for life on all new cars, so customers will enjoy years of trouble-free service. This alone saves customers thousands of dollars over the life of a two-car household; not to mention, the hassle-free convenience of simply bringing the vehicle back for quick maintenance. Gerry worked on cars all his life and knew maintenance reduced trouble. That's why he wanted his dealerships to be known for taking maintenance pressure off of customers and for treating them with fairness.
Eric Lane, Gerry's son and now president of Gerry Lane Enterprises, and Saundra Lane, Gerry's daughter and past-president of The Lane Agency, worked their way up through the ranks, too. Gerry Lane gave them no free rides, knowing that success only comes through hard work, education, and dedication. Eric had a great baseball career with the San Francisco Giants, while still working in the off-season. After baseball had ended, he started with the family business full-time. Eric started at the bottom and learned his father's business the same way Gerry did, by working hard and treating everyone with respect. Saundra won awards for some of the most innovative advertising seen in the automotive world, and made the Gerry Lane name one of the most recognizable trade names in the Baton Rouge area. Their hard work and fair play is what still keeps Gerry Lane at the top today. The third generation has begun to partake in leadership roles in the company. Grandson, Tyler Lane, is keeping with tradition by taking over operations at the Chevrolet store as General Manager. While granddaughter, Ashton Lane, is also continuing the family legacy by managing employee relations as Human Resources Manager for all three stores.
Eric started at the bottom and learned his father's business the same way Gerry did, by working hard and treating everyone with respect.
That is the story of how Gerry Lane Enterprises came to be the dealership we know and love today.